Architecture, Engineering and Construction Solutions 
– Augmenting capabilities
– Enhancing efficiencies
– Enabling profitable business growth

Infrastructure Companies
Technology-led solutions for managing complexities and increasing control for profitable growth

Government Organisation

Designed to be scalable and tailor made to work across government bodies across the globe

Real Estate & Construction

Empowering companies with technology to manage and deliver projects with centralized processes

Consultants
Technology that empowers architects and construction consultants with superior planning and projections
OPTICON™
Enterprise Resource Planning software designed specifically for the construction enterprises
Built with over 20 years of experience in the construction industry, OPTICON™ leverages deep industry insights to address every possible pain point. Remarkably integrated, this web-based Construction ERP software is an absolute must to optimize the complete construction management process. OPTICON™ Construction ERP management software is built for businesses to drive seamless growth and take the next business leap with the empowering force of technology.
Construction business involves high value projects in a fiercely competitive environment. The construction companies cannot afford to overrun time and cost, therefore they need to manage time and resources efficiently on real time basis. OPTICON™ the construction project management solution is a platform which bridges the gap between information and decision making process.
OPTICON™ is a group of integrated modules that together provide a comprehensive and complete ERP solution to the Construction and Real Estate Industry. The Construction Project Management ERP software is designed to automate the entire construction process and allows tracking information in real time thus making lives easier for all the stakeholders.
OPTICON™ the Construction ERP management software helps the Contractors at the tendering stage before the award of the contract; it empowers them to prepare a competitive bid by accurately calculating bill of quantities from BIM models to quote for both cost and time for the projects.
This construction ERP software is thus a process driven, flexible decision making tool. OPTICON™ is scalable to meet growth requirements and is designed with futuristic technologies and standards. Being fully internet based, it can be accessed from anywhere anytime.
OPTICON™ is a game changer for the Construction ERP industry and it's aimed at bringing the most technologically integrated way to simplify the complexities involved in every decision making process involved.
It gives the decision makers and business leaders a complete micro and macro perspective on every aspect, that has just not been possible so far.
OPTICON™ translates into greater efficiencies, optimum resource deployment, quicker decision making and control of ROI in practically every dimension of the construction process.
Seamlessly integrates Projects, Finance, Procurement, Sales & CRM departments there-by enhancing efficiency of construction enterprise many folds and helps to meet BCA compliance.
Tender Bid Management (TBM)
Maintains the Tender Details
Supports different types of Tenders like Percentage, Item rate, Lump sum and Built up
Imports the Client BOQ into system for Processing
Uses Standard Library Items to prepare the Costing of Client BOQ. The Standard Library Items will be mapped to Client BOQ Items.
Has Provision to generate Direct and Indirect Cost
Provides detailed costing with resource requirement, provision of escalation and wastage
Finalize the Pricing of the Client BOQ by Adding Profits and Overheads
Maintains Negotiation/ Tender revision details
Maintains the finalization details of the Tender
Project Cost Management (PCM)
Maintains the detailed Project Costing based on the approved drawings and material specifications
Maintains Project Work Breakdown Structure
Reads Autodesk Revit 3D Model to Generate Bill Of Quantity (BOQ)
Generates Bill Of Materials (BOM)
Maintains Project-wise Activity and Resource (Materials, Machines and Labor) Library
Provides Project Direct and Indirect Costing
Provides Project Budgeting for Cost and Resource requirement
Maintains the Estimate Revisions
Provides the comparison of actual costing with the tendered costing to find out the variation
Project Scheduling (PS)
Maintains detailed Project Work Breakdown Structure (WBS) with Planned Start and End Date of Activities
Provides Project-wise Activity Calendar
Maintains the Activity Dependencies to auto update the schedule
Maintains the Base lining
Provides Resource Planning
Generates Procurement Program and Cost outflow
Provides seamless integration with Microsoft Project
Maintains the Schedule Revisions
Tracks & Monitor Planned v/s Actual Progress through Daily Progress update
Project Monitoring & Control (PMC)
Monitors Project Progress
Facility to Release and Assign the Activities to Project Team for Execution
Facility to update the Daily Progress Report using Mobile Devices
Facility to upload the Site Progress Photos through mobile devices
Track and Monitor the Project Progress
Provides Project Engineer Work Place for Quick & Easy use of the System
Provision of Workflow to approve the Material, Machine, Labor and Service Requisition by the concerned project authorities
Compares Planned V/s Actual Progress
Daily Reporting about Project Progress
Records Work Measurements
Compares Planned v/s Actual Resource Consumption
Provides Integration with Scheduling, Costing, Tendering Bid, Subcontracting billing and Client Billing modules
Subcontractor Management (SCM)
Supports the Item Rate, Lump-sum and Built up Area Work Orders
Maintains Subcontractors Work Order details with Terms & Condition
Provision of releasing Open Work Orders
Analyze and Maintain the Subcontractor Quotations for Approval
Tracks the Work Done by the contractors
Provision for updating the Work Done Measurements
Manages Mobilization Advance, Work Done, Material Supply Bills
Certification of work and release of payment
Tracks the work done v/s payment released
Adjusts the Retentions and advances given to the contractors
Integrates with Accounting module to keep track of the bills submitted and payments released
Client Billing (CSB)
Tracks Project Progress through Work Done Measurements from Project Execution Department
Supports Mobilization Advance, Work Done, Material Advance Bills
Tracks the Project Progress for Invoicing
Maintains Advance Adjustment and Retention
Provision of Bill Certification
Alerts based on the Agreed Payment Terms
Preparation and Submission of Invoices
Compares Work done V/s Tender BOQ
Identifies the variations and price escalations
Integrates with the financials for posting invoices
Plant & Machineries (PnM)
Maintains the Plants & Machinery Technical, Insurance and Maintenance Details
Provision to generate the Project Machinery Requirements
Tracks Availability and Make Allotments to the required Projects
Dispatch and Transport the machineries to the required Project Site
Maintain Daily Machine Logs
Tracks the Purchasing / Hiring of Equipments
Monitors PnM usage and Percentage Utilization
Maintenance and their Expenses, Cannibalization of Plant & Machinery
Integrates with Project Monitoring and Financial module.
Material Procurement (MTP)
Helps in procuring right material at right time and at right price with right specifications
Maintains historical purchase information
Analysis and approval of supplier quotations
Processing and Approval of Local and Import Purchase Orders
Processes Supplier Advance & Supply Payments
Integrates with Financials and Stores modules
Inventory Management (INV)
Maintains Project Warehouse Stocks
Keeps track of material movement across the Warehouses
Maintains Material Receipts from suppliers and different projects
Activity Based Material Issues to the Projects
Material Transfer between the Warehouses
Stock Valuation based on LIFO/FIFO
Sales & CRM
Maintain, Track and Monitor the Customer Enquiries
Maintains the customer follow-up's with provision of assigning to the subordinates and higher authorities
Provide alerts/ pop-ups for follow-ups
Maintains the Unit Details, Payment Plan and Payment Schedules
Maintains the Booking information, Account Status, Payment Receipts, etc.
Auto Generation of Demand Letters
Tracking of Post Sales Follow-up
Posting of Payment Receipts to Accounts
Approval Workflow for Payment Plan and Booking
Financial Accounting (FA)
Maintains global chart of accounts
Maintains Customized Cost Centers
Supports Multi Currency
Provides Bank/ Cash – Payments/ Receipts, Journal Vouchers, Letter of Credit, Bank Reconciliation, Cheque Printing, Year End Finalization Facility
Comprehensive and Seamless integration with all the departments for Financial implications
Generates Project-wise Balance Sheet, Profit & Loss and Trial Balance Reports
Centralized Accounting Control to generate project cost reports.
Product Configuration
OPTICON is built on powerful system engines and accelerators
User Roles, Role Entitlement/ Authorizations
Has Role Based Authorization
User Configurable Work Flows
User Configurable Alerts and Notifications
Maintains Employee Information details
Company Configuration, Workflow Templates, Alerts & Notification Templates
Multi Currency and Localization settings
Mobile App
Track Progress on Construction Site
Daily Progress Reports from Site Engineers/ Supervisors
Approvals on the go for Purchases
Onsite photographs for work progress
Dashboards for Effective Decisions & Cash Flow Management
Other Modules
Analystics & Dashboard
Document Management
Fixed Asset Managment
Human Resource Managment
Payroll
Access Anywhere Anytime
One dashboard with overview of all construction activities
Project Management Centric Construction ERP solution
Digitize every function in the building construction life cycle
Bid efficiently
Detailed project cost estimation
Effective project control
Manage schedules and eliminate cost and schedule overruns
Transaction Approvals on the move through mobile app
Integration with 3D models for auto generation of BOQ
Seamless integration with MS Project
DPR updation through mobile devices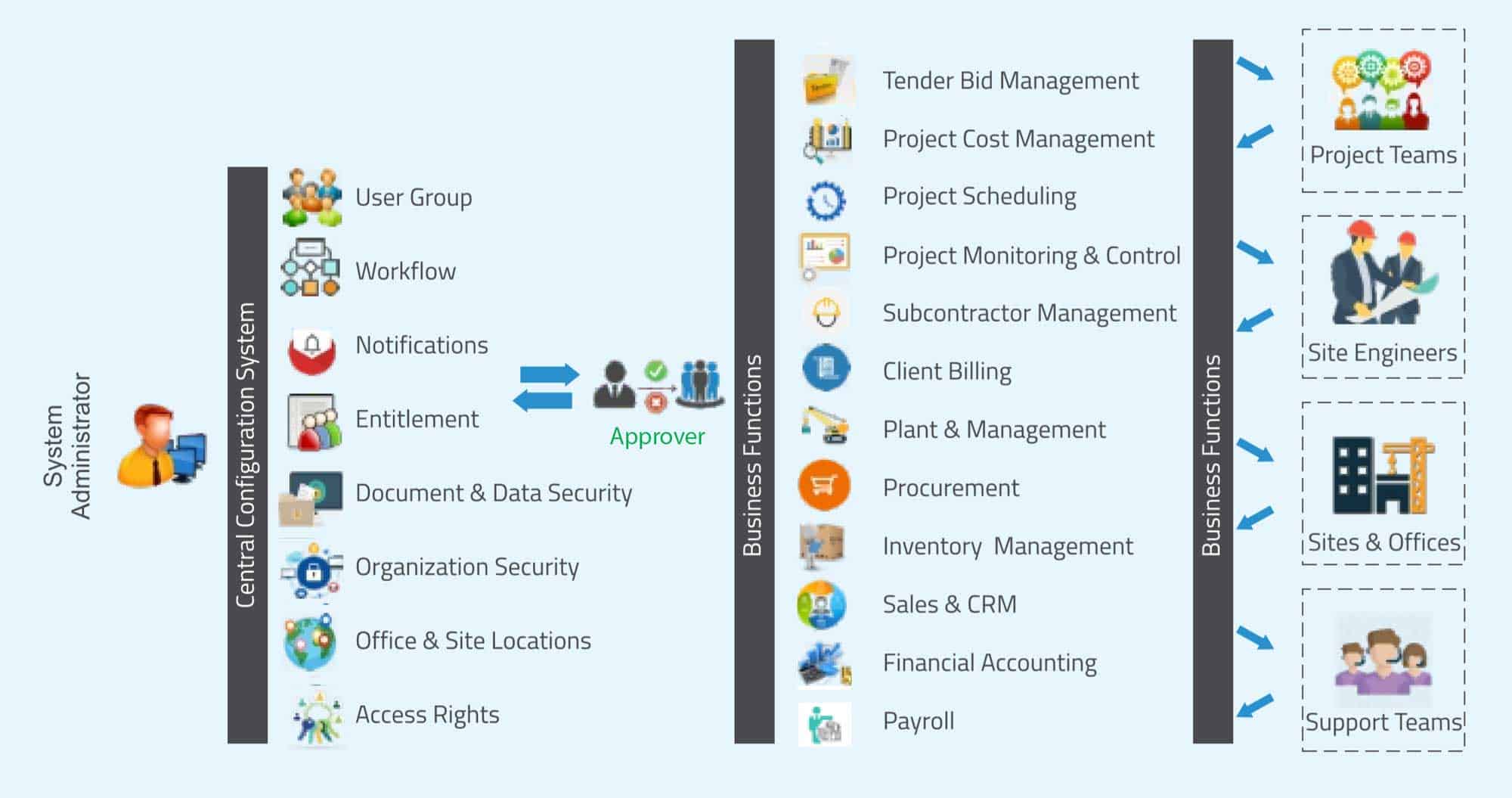 Call For a Demo:
+65 6805 8999
Computes quantity from 3D BIM model and links them with corresponding items in the library to prepare detail cost estimate. Alternatively BOQ could also be extracted from spreadsheets.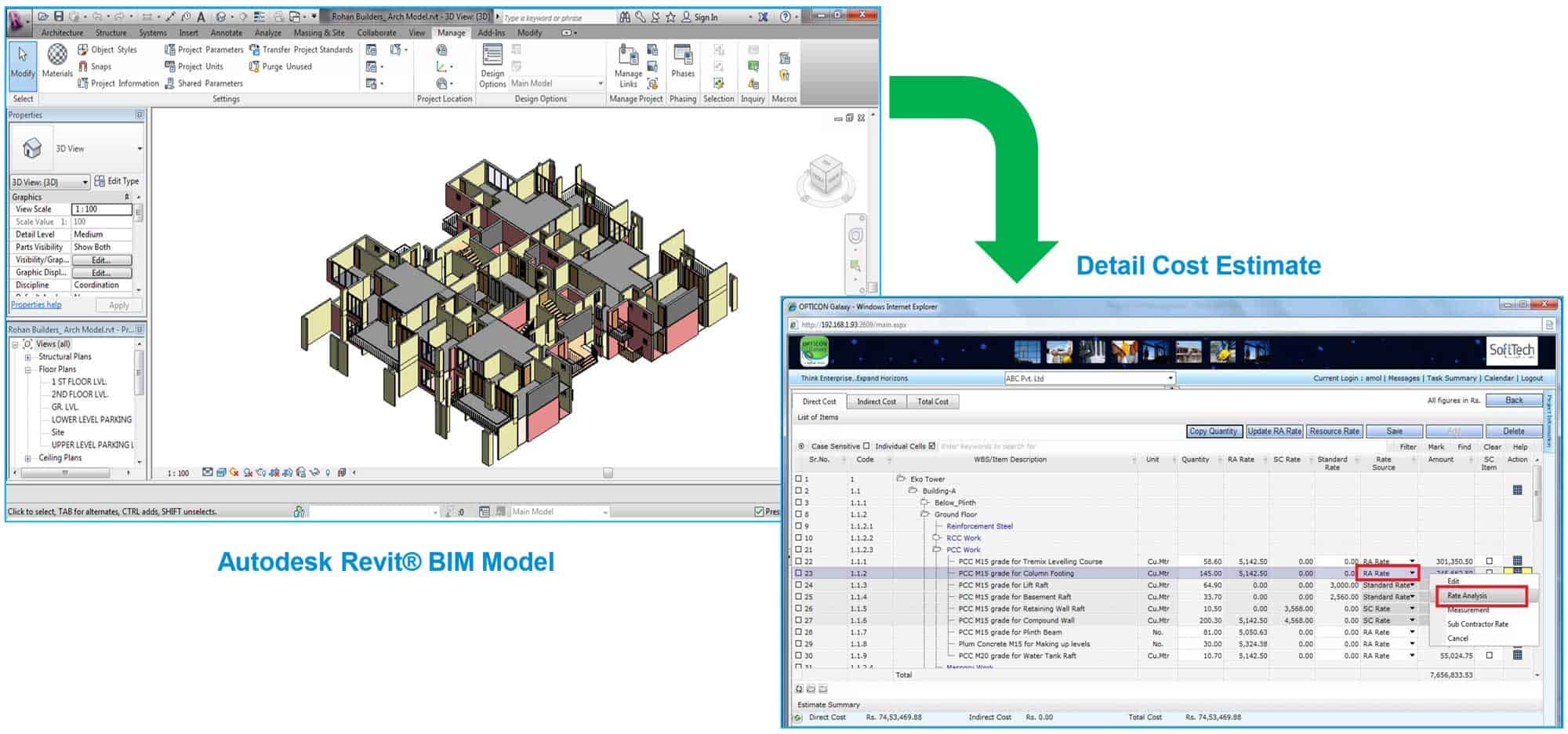 "The product helped in interconnection our various project sites, departments, and office – which made MIS consolidation across organization quicker. Being a value-for-money proposition, we were able to generate a clear ROI on OPTICON implementation." 
Anil Bakeri
Chairman & Managing Director
Bakeri Engineering and Infrastructure Ltd, India

"OPTICON has enhanced the efficiency and effectiveness of our Sop's through the integration and automation offered by the software. It's a well designed system that addresses the management cycle of construction projects skillfully."
Dr. Samar Daham Hatoum
General manager
Al Hikma Building Contracting, Dubai